enabling young learners through large scale programs
PROGRAM OVERVIEW
PROGRAM
OVERVIEW
Business Blasters is a game-changing intervention in pedagogical methods, narratives and reforms. The program, a practical component of the Entrepreneurship Mindset Curriculum (EMC) for classes 11th and 12th, has been designed to provide students an experience of working on business and social impact problems on-ground and to come up with solutions for the same. The program, through practice, seeks to develop skills of teamwork and brainstorming, identifying social challenges or business opportunities, and creating effective solutions for the same.
Each participating student receives seed money of ₹2000, which they can use to either earn profit or create social impact. In teams, students ideate and brainstorm to identify a need or problem around which they would prefer building a business model.
The Business Blasters program, open to 300,000 students, is the first government-backed initiative at this scale.
Business Blasters pilot impact, Khichripur
ENTREPRENEURS IN ACTION
ENTREPRENEURS
IN ACTION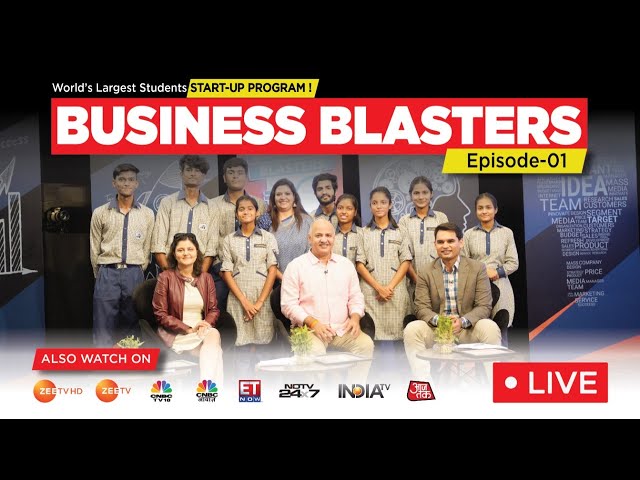 Biggest START-UP SHOW Business Blasters by Arvind Kejriwal Govt
Episode 1 // 28 Nov '21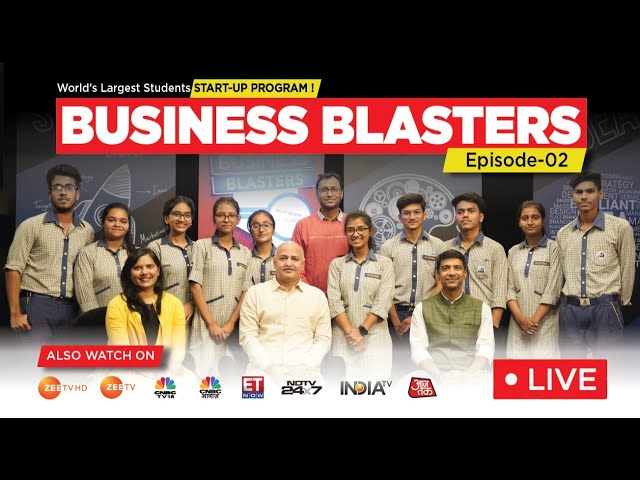 Biggest START-UP SHOW Business Blasters by Arvind Kejriwal Govt
Episode 2 // 05 Dec '21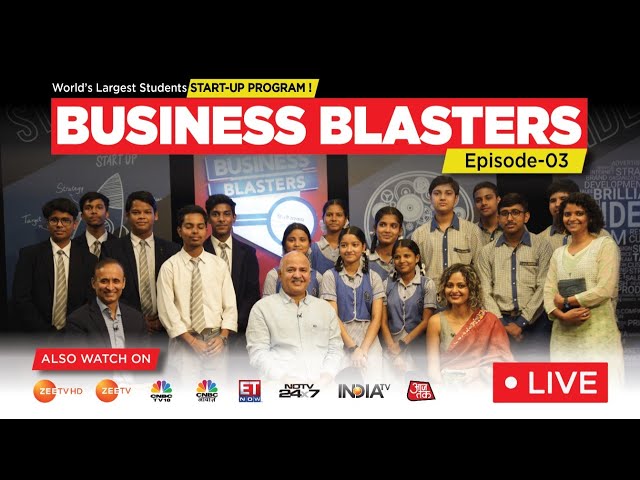 Biggest START-UP SHOW Business Blasters by Arvind Kejriwal Govt
Episode 3 // 12 Dec '21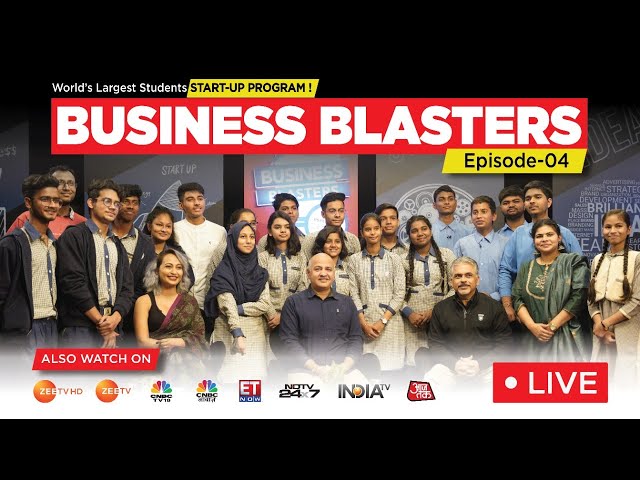 Biggest START-UP SHOW Business Blasters by Arvind Kejriwal Govt
Episode 4 // 19 Dec '21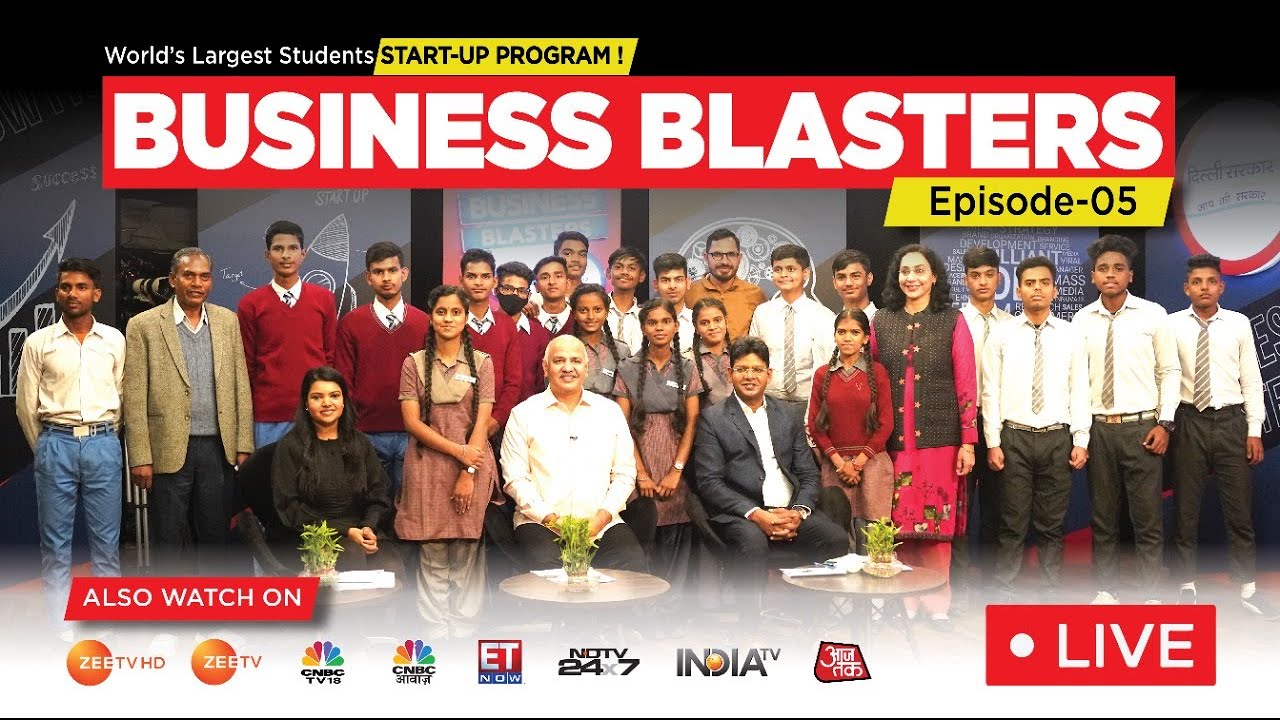 Biggest START-UP SHOW Business Blasters by Arvind Kejriwal Gov
Episode 5 // 26 Dec '21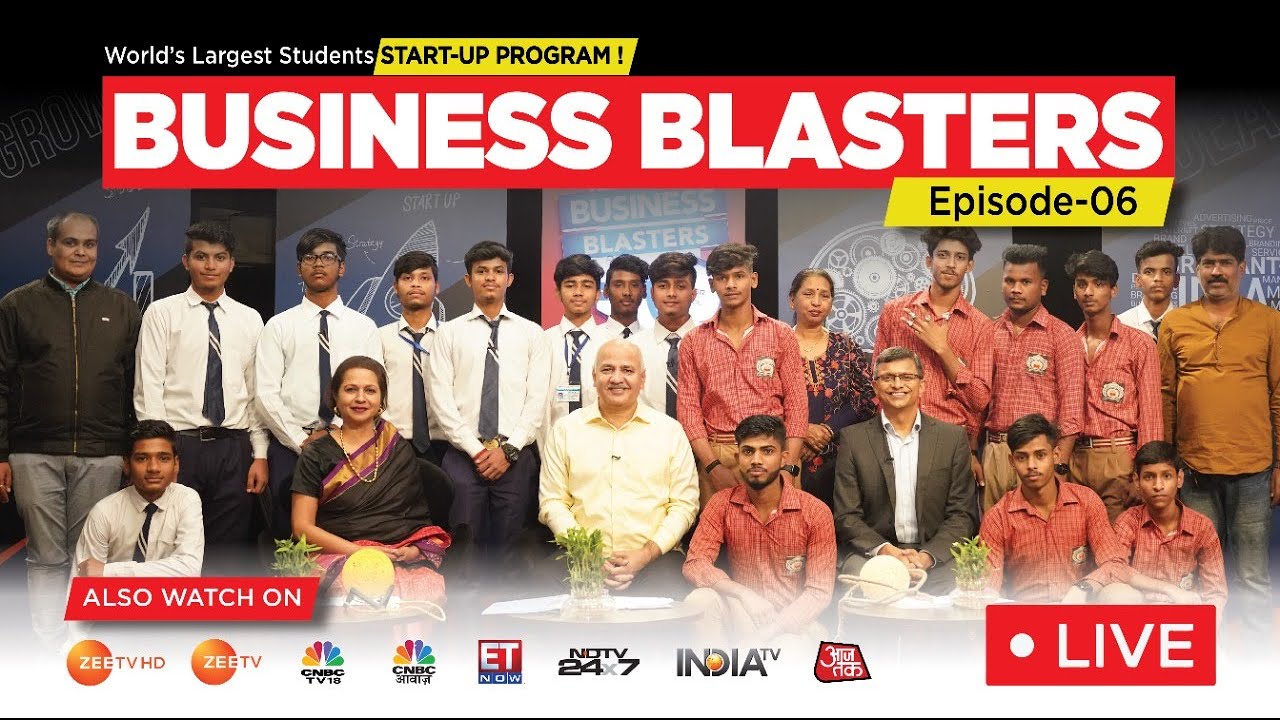 Biggest START-UP SHOW Business Blasters by Arvind Kejriwal Govt
Episode 6 // 31 Dec '21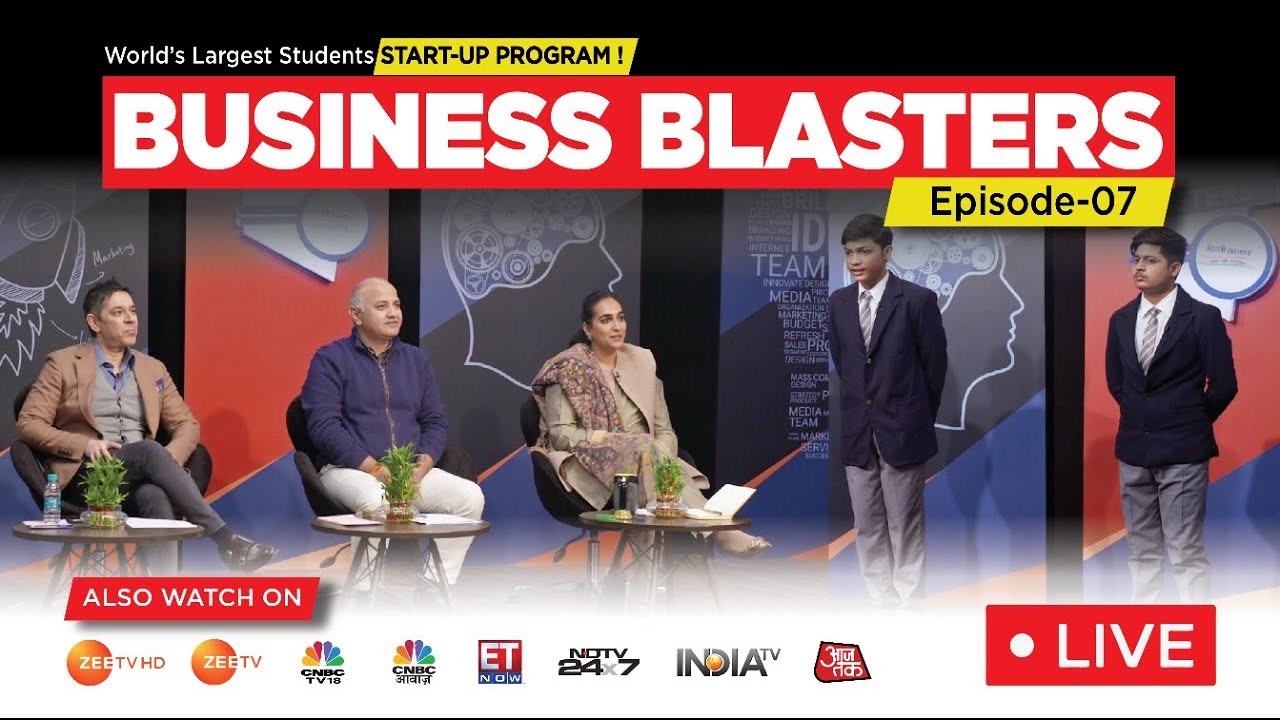 Biggest START-UP SHOW Business Blasters by Arvind Kejriwal Govt
Episode 7 // 01 Jan '22
Episode 1 // 28th Nov. 2021
BUSINESS BLASTERS X UDHYAM
BUSINESS BLASTERS X
UDHYAM
In 2019, Udhyam was invited by the Delhi Government to contribute towards Entrepreneurial Mindset Curriculum's design, teacher training, and setting up processes to ensure the program's effective implementation. A part of the Entrepreneurial Mindset Curriculum was to provide students with seed money to come up with an idea and a plan to earn profit or solve a social problem applying their entrepreneurial mindset in real life.
In October 2021, this practical component of the curriculum for classes XI and XII was launched as the Business Blasters program. Udhyam's Delhi team has been working closely with the Delhi secretariat and SCERT Delhi to design the Business Blasters program and ensure its effective execution.
MEKIN'S NOTES
MEKIN'S
NOTES
YOUNG ENTREPRENEURS
YOUNG
ENTREPRENEURS
Team Safe Kitchen
Members of this team observed from the news that many mishaps occur from gas leakages in urban slums. When Business …
Awesome Blossoms (Organic Ghee)
हमने TV पर Amul Ghee की advertisement देखी और हमने Google पर Amul के बारे में detail में पढ़ा तथा …
Mandala Collection (Lehengas)
This team of five 12th grade students learnt about mandala designs and decided to use the art form of mandalas …
The Glassy Girls
This team of seven students were intrigued by the prospect of creating and selling decorative lighting. They decided to pool …
MENTOR A
BUSINESS BLASTER
Donate your time and skills to enable government school students' in their ventures by filling out this form to mentor a Business Blaster. Your knowledge and experience will greatly benefit a student starting their entrepreneurial journey.
PROGRAM SNAPSHOT
PROGAM
SNAPSHOT
STORIES OF
IMPACT
Innovative Squad
St. Eknath,SKV, J&K block, Dilshad Garden
इस टीम में छे लड़कियां हैं। एक लड़की के रिश्तेदार फिरोजाबाद में bangles का Business करते हैं। उन्होंने bangle making सिखाया। एक लड़की के घर में bedsheet painting की जाती है तोह उसने अपने घर से वह सीख लिया। टीम की सभी लड़कियों को new design से packing करना आता है, इसलिए सभी को यह idea आया के वह Bangle Making तथा Bedsheet Painting एक unique design से pack करके बेचने का business idea निकाला। इस टीम को Rs. 10,000 का investment मिला था, जिसमें से उन्होंने Rs. 15,000 का इनकम करके, Rs. 5,000 का प्रॉफिट कमाया है। टीम के पास अभी भी Rs. 2,000 का reserve fund रखा है, जिसको वो आगे इस्तेमाल करके अपने business को आगे बढ़ाएंगे।
STORIES OF
IMPACT
Team Speakersters
School of Excellence Khichripur
With online education becoming the new normal, five students from Delhi School of Excellence, Khichripur set out on a journey to help make online classes more 'audible'. Speakersters started when a group of friends found it difficult to understand their teachers during online classes, since the speakers on most of their phones weren't loud enough. Soon they realised that they weren't alone- many other students faced the same problem. With this, they decided to make budget friendly & high quality speakers inspired by Delhi Government's Entrepreneurship Mindset Curriculum. Implementing such a business idea during pandemic & lockdown wasn't a cake walk. The team faced many challenges while surveying the market, procuring speaker components, and assembling them into the final product. Despite all the hardships, the Speakersters team ensured their idea came to life. Speakerster is a small square shaped bluetooth speaker, enclosed in a wooden box, which comes at an affordable price of ₹299 with a 3 months warranty. So far, they've sold more than 15 pieces and have orders for more.
STORIES OF
IMPACT
Team Rangbahar Apparels
SKV No.1, C-block, Janakpuri
Megha, Sandhya, Kashish, Nikki and Vandana are students of class XII in SKV No.1, C-block, Janakpuri (1618017). Megha, the group leader, learnt tie and dye from her elder sister and further honed her skills from YouTube. She was fascinated with the technique of tie and dye and whenever she tried to buy a dupatta from the market, she realised it was expensive and not of very good quality. She proposed this art as her business idea when the seed money was given for the EMC Business Blasters program. The group members who joined her, quickly refreshed, or learnt this technique and started making dupattas with their parents' support, though they had a hard time balancing their work and studies. The girls work from their homes and have manufactured and sold 45 dupattas at a modest profit. They first showcased their work in the business blasters Diwali mela at school, and subsequently sold all the pieces to customers from Delhi, Mumbai and Australia. Retailers have shown interest and offered to promote and sell their dupattas in bulk. At present they are preparing more dupattas and diversifying into sarees as well.
STORIES OF
IMPACT
Team Mystique Dates
Government Co-Ed Senior Secondary School, Punjabi Basti
Soofee and his group members, Yash, Himanshu, Varsha and Harshit from Government Co-Ed Senior Secondary School, Punjabi Basti decided to use Soofee's grandfather's date seeds powder as their business idea. The concept is unique because the date seeds powder is free of caffeine and rich in antioxidants. It is similar to coffee in flavour and taste and is also prepared the same way. At present, the team is striving to overcome the challenges of seed procurement, grinding them into fine powder and high delivery costs with the support of EMC team, family members, peers, teachers and business coach. In a TV interview, honourable education minister Sh. Manish Sisodia ji mentioned the mystique dates idea as very innovative and urged the students to establish it as a brand to reckon with. Three kg of date seeds powder has already been sold at a profit of ₹3000. The team is selling directly to customers and trying to build up their brand. They will begin free home delivery all over Delhi, as soon as they get 50 and above online orders. The team is confident to create a niche in the health drinks market.
THE NEWSROOM